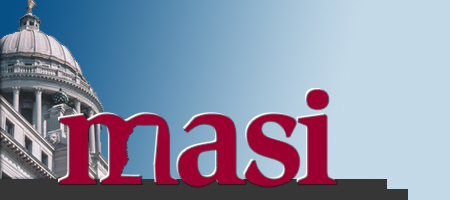 Mississippi Association of Self-Insurers
The Mississippi Association of Self-Insurers (MASI) represents the self-insured workers' comp and healthcare communities of Mississippi in legislative and regulatory arenas. MASI membership includes self-insured funds and self-insured employers, in addition to many professional members such as third party administrators, attorneys, rehabilitation counselors, healthcare providers, brokers, accountants, and banks. MASI members represent thousands of Mississippi employers and millions of dollars in annualized premiums. Dan Gibson, Executive Director of MASI is a former mayor of Crystal Springs and a graduate of Mississippi State, where he served as student body president. He first entered the insurance profession in 1994, and at the age of thirty was named to the Mississippi Business Journal's Top Forty Under Forty. Dan was a candidate for governor in 1999 and has been an insurance consultant for many years. He is also active in music ministry, both at church and in the community, and owns and operates several Bed & Breakfast properties in Natchez.
The Mississippi Lobbyist Directory is organized by the Mississippi Poultry Association. All rights reserved. Copyright 2019.